Our easy-to-use new website launches soon. Please ensure you've closed any open orders by 21:00 BST Thursday 24th April.
Environmental Information - Scholastic International School Book Club

We know that environmental issues are of great importance in schools, and they're important to us too. That's why we put a lot of effort in to making environmentally sound choices in everything that we do. Here are a few of the things that we're doing to minimise our impact on the environment.
Waste
We take great care to make sure that our stock is sensibly managed and that we minimise waste in all our activity. Our wastage on promotional material is generally less than 5%, and waste material is recycled wherever practical.
Paper and printing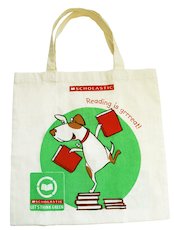 Our printed material uses papers sourced from sustainably managed forests, certified to meet PEFC guidelines1. We use paper from mills who operate a certified chain-of-custody in accordance to ISO 9001, ISO 14001 and OHSAS 18001. Most of our printers use vegetable-oil based inks. The cardboard in our mailing boxes is made from 100% recycled material.
Teachers can help us to save paper by opting out of receiving paper Rewards – we'll give them virtual Rewards instead.
Plastic
In order to stop over 3 million carrier bags going to landfill every year we will no longer be sending out single-use plastic bags. Our Book Club mailings are now packaged in cardboard boxes, which are totally recyclable, rather than plastic shrinkwrap.
We're trying to reduce the number of carrier bags we send to schools. Instead of selecting carrier bags when you order, encourage children to buy this reusable bag for only £1.00!
Electrical equipment
In accordance with the UK's new Waste Electrical and Electronic Equipment (WEEE) Regulations, we are contributors to the Government's new recycling initiative2.
Further reading:
1 See www.pefc.co.uk
2 See www.envirowise.gov.uk/uk/Our-Services/Publications/EN759-An-overview-of-the-WEEE-regulations.html